The fall/winter youth basketball season begins next week. To launch it, Southborough Youth Basketball is holding special free sessions for 1st and 2nd graders.
Try it Out Day is to encourage families who aren't registered to come check out their program. To make it more fun, they are encouraging players already enrolled to come play, too. (And bring a friend!)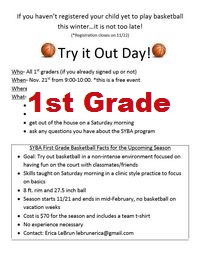 No registration is require to attend the sessions. But, registration for the upcoming Southborough Youth Basketball season ends the next day. So, this is a good opportunity for parents to ask any questions they have.
The free sessions are at Finn on Saturday, November 21:
1st graders – 9:00-10:00 am
2nd graders – 10:15-11:15 am
Organizers plan to demonstrate:
how we modify the game to accommodate [1st/2nd] graders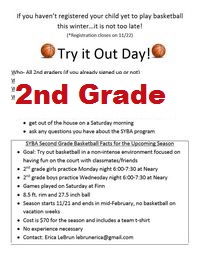 During the season, first graders are eased into the sport with Saturday clinic style practices.
Second graders will play Saturday games and hold one practice per week (Monday evenings for girls, Wednesdays for boys.)
For more details, click on the flyers to enlarge.
If you still have questions, visit SYBA's website or email Erica LeBrun at lebrunerica@gmail.com.