Next week, the Friends of the Southborough Library are sponsoring an artist reception. It is just one of the ways the library is promoting art and town artists.
The reception is for Southborough student Katie Dobberpuhl whose work is already on display in the downstairs Eaton Meeting Room.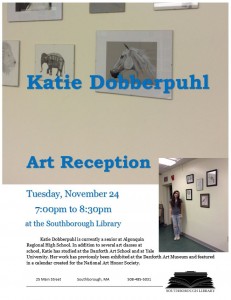 On Tuesday, November 24 from 7:00 – 8:30 pm, the public is invited to come take a look, enjoy some refreshments and chat with the artist:
Katie Dobberpuhl is currently a senior at Algonquin Regional High School. In addition to several art classes at school, Katie has studied at the Danforth Art School and at Yale University. Her work has previously been exhibited at the Danforth Art Museum and featured in a calendar created for the National Art Honor Society.
Also on display this fall has been art supplied by Southborough schools.

A display case, sponsored by Southborough Council of the Arts, allows school art teachers to rotate through special exhibits of student work. Currently on display are paintbrushes "transformed into whimsical, clever characters" by Neary 5th graders.
Previously, Finn School artists had a turn showing off some Monet inspired lily pond pieces.
Helping kids get hands on with art, the library has been hosting free workshop for children aged 5-10. The next one is scheduled for December 12 from 10:30 – noon. The workshops are sponsored by the Friends of the Southborough Library and run by Southborough artist Lanting Huang-Truong of the Bigelow Center for the Arts.  
The Friends are also sponsoring a free painting activity for preschoolers at the library run by another Southborough artist. (That will take place later this winter – stay tuned for details.)
Also thanks to the Friends, the library continues to offer discounted passes to area art museums including Isabella Stewart Gardner Museum, Museum of Fine Arts, Worcester Art Museum, Museum of Russian Icons. (And they'll soon be adding The Eric Carle Museum to that list.)

Finally, I'd be remiss in not mentioning another town artist who was recently profiled by the Community Advocate. Dustin Neese painted a series of paintings for and on display at the Wayside Inn.
(You can see a sample of that work by clicking on the thumbnail, right.)