[The following information was provided by My Southborough sponsor Expressions Art Bar.]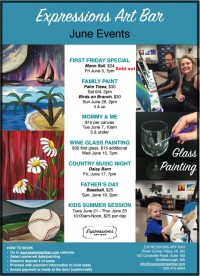 Expressions Art Bar is promoting opportunities to laugh, sip and create this June. This summer, they are offering classes and events for adults, kids or both.
Take a look at the flyer right for a few of this month's highlights.
Some of the fun in store for adult customers this month includes Country Music Night and glass painting, open paint, and specialized paint nights.
("Moon Sail" this Friday is already sold out. But there are plenty of other options!)
There are also family offerings like Mommy & Me for tots, a Father's Day event for ages 8+ with their dad/granddad, and a Family Paint session. Or, use a "Kids Summer Session" to drop kids off for some special art time of their own.
To see their full calendar listing, click here.
To sign up for an event or learn more about Expressions, visit expressionsartbar.com, or email info@expressionsartbar.com.