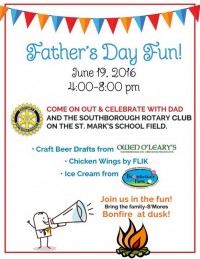 Father's Day is only ten days away. If you're looking for a way to celebrate, the Southborough Rotary Club has done the planning for you.
The club is hosting a family friendly event. Highlights were selected with Dads in mind: beer, wings and a big fire!
The community is invited to come out to St. Mark's field (corner of  Rtes 30 & 85) on Sunday, June 19 from 4:00 to 8:00 pm.
Vendors will be selling craft beers on tap, chicken wings, ice cream, baked goods and water. They'll also be selling s'mores kits and letting customers toast marshmallows over grills.
Sales will be cash only. So, stop at the ATM first!
To encourage hanging out with friends and family on the field, there will also be music. And they'll be topping the night off with a big bonfire at dusk.
Thanks to a big tent near the school, most of the activities are rain or shine.
The Rotary is using this event to raise funds for its Southborough scholarship program. Last year, the Rotary began offering $1,000/yr to a Southborough student attending a 4-year state school.
Sounds like a good time (and for a good cause.) Hope to see you there.