There are two events taking place in neighboring towns that are worth checking out this weekend. One celebrates area rivers. The other makes use of a local lake for a fundraiser to battle breast cancer.
Against the Tide:
Saturday morning's fundraiser takes place at neighboring Hopkinton State Park. (And I know that traditionally, some of the participants are from our town):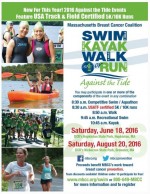 Against the Tide benefits the Massachusetts Breast Cancer Coalition's work toward breast cancer prevention.
Registrants may participate in up to three of these recreational or competitive activities:
1 mile Competitive Swim
5K Run (USA Track & Field certified)
10K Run (USA Track & Field certified)
Aquathon (1 mile competitive swim followed by your choice of 5K or 10K run)
1 mile Recreational Swim
2 mile Recreational Kayak
3 mile Walk
Online registration is due by noon this Friday, June 17. But, if you miss that, you can still sign up in person Saturday morning.
For more details, to register, or to pledge support, click here.
You can also show your support by showing up that morning to cheer on participants. The first event begins at 8:30 with competitive swim and the aquathon. The final event (kyaking) begins at 10:45 am. (Click poster to enlarge for more details.)
Riverfest 2015

Southborough has a tentative link to this weekend's festivities. It's a celebration of the Sudbury, Assabet, and Concord rivers. None of the events take place in Southborough, but Sudbury River does define our southern border. 
Events take place all weekend, but only two are what I'd characterize as a stone's throw away. On Saturday, the Framingham Conservation Commission is leading two river walks:
Join the Framingham Conservation Commission for a walk along the Sudbury River, the aqueduct and Stone Bridge in Wayland for a bit of history and information about local flora and fauna. Wear proper footwear. Meet at the end of Little Farms Road at the Sudbury River.
Explore the Cochituate – 2 pm:
The Framingham Conservation Commission will host walk along the new Cochituate Rail Trail, branching off into Cochituate Brook Reservation and out to the shores of the North Pond of Lake Cochituate State Park. Learn about these great trails and open spaces as well as dog owner responsibilities on conservation lands. Wear proper footwear. Meet at the CRT entrance at the corner of School and Concord Streets in Saxonville.
Dogs are welcome for both walks, but must be leashed. To register, or for more information, contact 508-532-5460. Allow 2 hours for each walk.
Alternatively, you can take a Self-Guided walk at 9:00 am:
Enjoy a walk along the Sudbury River on the Carol Getchell Trail. Look for tracks and emerging plants along the banks as spring turns toward summer. Start at the entrance on Sudbury Landing near the Old Danforth Bridge. The trail ends at Little Farms Road
For other Riverfest events taking place over the weekend in Sudbury, Lowell, Concord, Wayland, Carlisle, Bedford and Billerica, click here. Free activities include a fishing derby, pontoon boat toar, kayak and canoe use, wildlife encounters and much more.