Next week kicks off the free Summer Concert series. Consider it a celebration of the official start of summer vacation. (It takes place on the first no-school day in Southborough.)
On Thursday, June 23rd from 6:00 – 8:00 pm, Chuck and Mud and the Hole in the Dam band will entertain residents.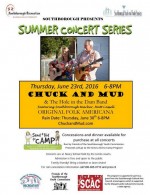 Kids may get a kick out of seeing their former or about-to-be teacher Matt Cassell performing with the band. And the rest of us can just enjoy the band's original Folk Americana tunes.  (Scroll down for a sample.)
I always love the excuse not to cook on concert nights. Instead, I grab cheap kid-friendly eats from the concession stands. The proceeds all go to Friends of Southborough Youth Commission for Send a Kid to Camp.
The concert takes place at Neary, on the field by the tennis courts. (So, you may want to also bring your bug spray.)
Of course, we never know what weather New England will bring us. So, the backup rain date is the following Thursday, June 30th.
For more details, click on the flyer. For a look at the band in action, check out the video below. And for a reminder of future concert dates, click here.