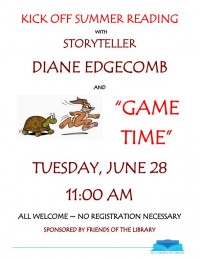 The Southborough Library is inviting kids to come in on Tuesday, June 28th to hear "Game Time" stories from an entertainer:
We're kicking off Summer reading with story teller Diane Edgecomb and 'Game Time.' This is a great program for children ages 4 and up.

Game Time features three topsy-turvy reading adventures where nobody has their 'game face' on and everybody wins!

Diane's jazzy version of the 'Tortoise and the Hare' encourages going your own pace and coming out great in the end. We learn that no reader is a slow poke when it comes to learning!

In 'Kite's Tail,' an afternoon kite-flying game teaches a shy girl how to SINNNGGGG!

There's even more fun in the Hungarian story, 'The Hide and Seek Princess.' She has X-ray vision and will only marry the suitor she cannot find.
The event is funded by The Friends of the Southborough Library.
Updated (6/24/16 10:37 am): Sorry, I looked at my calendar wrong. (The 28th looked like a Monday to me.) The storyteller will be there on Tuesday. (Though you can always stop by on Monday for the summer reading program!)