Southborough hometown boy Derek Johnson is back for a visit. And Nashville singer-songwriter Derek W. Curtis will be performing in Cambridge tonight from 8:00 – 9:00 pm.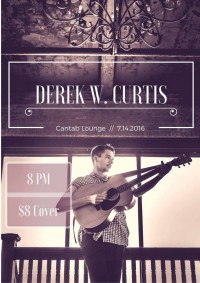 His proud mom, Denise Johnson, shared the news with the explanation. Derek took the stage name since there was already an established musician with the same birth name.
Derek grew up in town, attending public school and graduating with Algonquin's Class of 2011.
According to Denise, Derek is very appreciative of all that he learned from his wonderful music and band teachers along the way.
The musician now describes himself as a Nashville singer-songwriter whose mix of classic and modern folk is for those who want to sit and think.
If you want to see him perform on stage, head to Cantab Lounge tonight for the Thursday night 8:00 – 9:00 pm "Club Bohemia" held downstairs.
Derek posts of his set:
It'll be an intimate performance of songs written since being down South, including songs from my Self Titled EP.
Click here for more event info.
If you'd like to check out some of his music, click here.