Southborough Police have filed additional charges against a man already jailed for alleged "connections to" a September 7th burglary.
The news of the break-in of a Fisher Road home, subsequent arrest, and new charges comes from Southborough Wicked Local:
Jovan Velez, 22, of 12 Princess Path, Uxbridge, was arrested on Sept. 19 on charges of possession/receiving stolen property from a Sept. 7 burglary in Southborough.

"On 09/19/16 Southborough Police Detectives, along with the assistance of Uxbridge Police Detectives and Blackstone Valley Drug and Counter Crime Task Force detectives served a search warrant at Velez's residence. During the search detectives located stolen property, along with other evidence that connected Velez to the Fisher Road burglary," wrote Southborough Police Lt. Sean James in a press release. . .

On Monday, Southborough police additionally charged Velez with daytime breaking and entering from a building for a felony, larceny from building and defacement of real or personal property. (read more)
Earlier this month, the Telegram posted news of Grand Jury charges against a Southborough man for a white collar burglary:
The grand jury charged David Rodriguez, 50, of Southborough, with larceny of more than $250 and making false entry into corporate books.

Authorities say Rodriguez embezzled almost $112,000 from Wayland company iPROMOTEu, a promotional products distribution company where he was an employee. They said the thefts occurred between June 2015 and April of this year.
You can read more about the alleged embezzlement in their April article.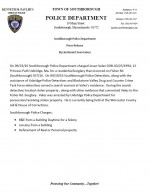 Updated (9/27/16 10:10 am): I received the full press release on the charges against Velez. You can see that to the right. While forwarding it to me, Chief Kenneth Paulhus too the opportunity to add:
I would also like to commend the fine work done by Det. Sean McCarthy with the assistance of Lt. James on this case.

Residents are again reminded to refer to our Burglary Prevention Guide which I will repost on [the Southborough Police Facebook page], and call the station for all suspicious individuals or vehicles in their neighborhoods. We will be happy to respond.
The prevention guide he was referring to was also posted in 2014. You can see that here.