Next week, the Town is holding two forums to again pitch the Main Street Reconstruction project to residents. It's a chance for residents to learn about the project and ask questions.
Town officials are hoping that answering questions now will help the Special Town Meeting run smoother on October 18th.
Next Wednesday, Public Works Director Karen Galligan will be visiting the Senior Center. She'll be explaining the proposal and asking questions/gathering feedback. That event takes place on October 12th at 9:30 am.
The following evening, the Main Street Design Working Group will host a forum at the Southborough Library. Residents are encouraged to come out for a brief presentation followed by discussion. That's from 7:00 – 8:30 pm on October 13th.
As for the Special Town Meeting, the Town is going an extra step to get voters there this time. Southborough Recreation has announced that babysitting services will be provided during the meeting.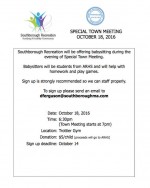 The cost is only $5/child, with funds going to Algonquin Regional. (That's appropriate, since ARHS students will be doing the sitting. See flyer for details.)
And if enough residents get their questions answered in advance, maybe that night won't run too long for the kiddies!
Register soon by emailing dferfuson@southboroughma.com. The signup deadline is 10/14.