St. Mark's Episcopal Church is hosting a free "Community Pasta Dinner" this Sunday. Organizers are encouraging people to join them after dropping off pumpkins for the annual Light Up Southborough display.
As mentioned in the earlier post, pumpkin drop off is from 4:00 – 6:00 pm this Sunday, October 9. Meanwhile, viewing of the lit display is set to begin at 7:00 pm.
St. Mark's Church is inviting residents to make festive use of the window between.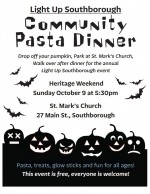 Drop the pumpkins off, park in their lot, and join them for dinner starting at 5:30 pm.
They're promising "Pasta, treats, glow sticks and fun for all ages!"
The dinner will take place in the church's parish hall, just past the church, at 27 Main Street.
If you are unfamiliar with the town's churches – St. Mark's is the brown stone church a little past Common St. (Don't show up with an appetite to the white steeple on the hill. That's Pilgrim Church.)