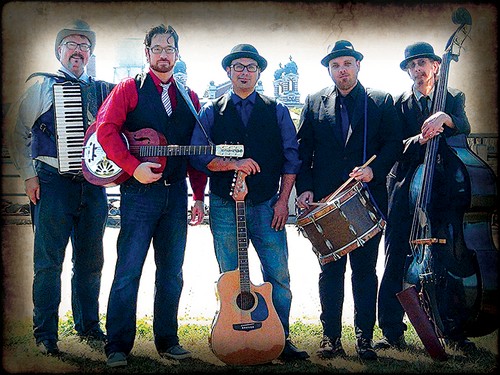 There's more fun in store for the long weekend. Just announced – this Saturday night, Steeple Coffeehouse is bringing in Scott Wolfson and Other Heroes.
The group is a self described Indie Folk Pop Rock Band, playing "'Three-verse dramas' full of emotional complexity and insight around toe-tapping melodies." (For a the Coffehouse's write up of the group, click here. For a preview of their style, scroll down.)
The concert is scheduled for October 8th at 7:30 pm. (Doors open at 7:00 pm.)
Not familiar with the venue? The Steeple Coffeehouse is Pilgrim Church's Fellowship Hall – transformed for the evening into a coffeehouse with musical performances. 
While enjoying the concerts, locals can enjoy coffee and dessert. Proceeds from the refreshment sales are donated to local and regional charity. As is their tradition, organizers are also requesting people to bring donations for the Southborough Food Pantry.
And they are again pitching a special fundraising pre-dinner show at Tomasso. 100% of proceeds from the online sales of the "Dinner for Two" will go to Steeple Coffeehouse and passed on to local charities. (Click here to learn more.)
Tickets for the evening show are $15 in advance ($12 for students/seniors) or $18 at the door ($15 for students/seniors). Advance purchase is available online.
Want a preview of the band's style? Check out this undeniably, toe-tapping-fun video: