The Trustees of Reservations is inviting the public back for its 2nd Farm Festival. (This time with an entry fee that covers all activities up front.)
Celebrate with them from 10:00 am – 4:00 pm on Sunday, October 9. The tented event is rain or shine. (Though, I'm keeping fingers crossed for shine. Join me in willing Hurricane Matthew to drift eastward.*)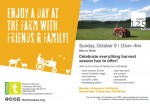 Fun in store includes contests for Pie-Baking, Donut Eating, and Goat Milking. Once again, you can get your pumpkins carved and decorated here, in time for Light Up Southborough that night.
Kiddies will enjoy a Face painting, crafts, activities, the Hay Maze, and a Pop-up Barnyard with bunnies, sheep and more.
And all ages will enjoy on stage performances by local entertainers (music and improv), a beekeeper demo, a guided trail hike, the cider press, the photo booth, and even "goatselfies".
The entry fee is – for members $5/individual, $15/family; for non-members: $10/individual, $25/family. Once inside, all activities are free.
Vendors will also be selling food and beverages. And the Farmstand will be open for business.
Here is the schedule with more details: 
10:00 am – 4:00 pm – General Activities
Activities & Crafts, Cider Press, Photo Booth, Hay Maze, Face Painting, Farmstand, Pop-up Barnyard
Pumpkin carving and painting
Local performers on stage throughout the day: music from Dave Garden with Hit the Bus, "folksy fiddle" from Ben Keyes, children's music with Mr. Dave, and performances from Skyrise Children's Theater and their Improv Troupe
11:00 am – #goatselfies in the Photo Booth
11:30 am – Beekeeper Demo
Join our beekeeper as he shows you the ins and outs of apiary and hive management, just in time for hibernation. He'll check on the hive boxes and even extract some fresh honey in our classroom!
12:30 pm – Goat Milking Contest
Watch two new local competitors go head to head with their udder squeezing skills! The winner of this years contest will face off against last years champion.
12:30 pm – more #goatselfies in the Photo Booth
1:30pm – Donut Eating Contest
In celebration of the Trustees 125th anniversary, we want to see how many donuts you can eat in 125 seconds! They'll be hanging in the air and there's no hands allowed so it's sure to be one of the silliest contests around.
1:45 pm – Guided Trail Hike
2:00 pm – Final deadline to enter Pie-Baking Contest
Think your pie recipe has what it takes? Bring your baked masterpiece to the Festival to be judged by our farmer and local culinary experts!
2:30 pm – Pie Contest Winner Announced

*As of the most recent reports, National Weather Service Boston still is uncertain if/how the hurricane will effect our area on Sunday.