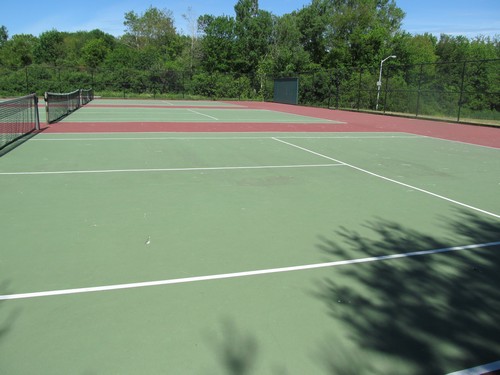 In August, I announced that Neary tennis courts would be closed for resurfacing the first week of September. It turns out the work was postponed.
Recreation Director Doreen Ferguson informed me she expects materials to come in today, then prep work will begin. When work commences, signs will be posted (and announcement on the Rec website.)
Once the project starts, the closure will hopefully only last about one week (weather dependent.)
The department explained this summer that the 15 year old courts have been repaired over the years but are now in need of a complete overhaul. The project will cost upwards of $85,000. It's jointly funded by the Community Preservation fund, a grant from USTA (US Tennis Association), The Friends of Southborough Recreation and the Recreation Department.
During the closing, you can still make use of Finn's tennis court. 
In sharing the news, the department informed me how the Richardson Tennis Courts got their name. It's in honor of Pat Richardson, a longtime resident of Southborough and supporter of recreation, as a past member of the Recreation Commission and instructor.  (See photo right of Richardson teaching tots to enjoy tennis.)