Southborough Youth and Family Services is holding their annual Halloween Party in two weeks. And they are hinting around about a special reason for kids to attend.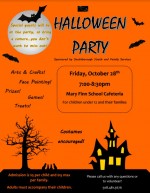 The party will take place Friday, October 28th from 7:00 to 8:30 in the Finn School cafeteria.
We will feature games, crafts, treats, prizes…and some very special guests who won't be in costume, but many kids will likely be dressed like! We can't say who, but the kids will find out that dark knight, oops, I mean night. I'll just let it go but finish by saying to bring a camera!
It's $5 per child, a max of $15 per family and an adult must accompany children. This is for Southborough residents only, please.