Children (and adults) across Southborough were bitterly disappointed the night before Heritage Day. The town's annual pumpkin display was called for rain.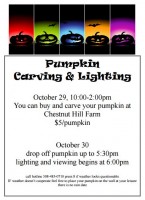 It looks like the cries were heard by Southborough Recreation. We're getting another chance this Sunday – rain or shine. (This isn't the Rotary Club's official Light Up Southborough event – so it will be run a bit differently.)
Participants can place their pumpkins on the wall around the Old Burial Ground any time Sunday, October 30th before 5:30. (The wall runs around the cemetery on Common Street, past the library, and runs around the corner along St. Mark's Street.)
Lighting will begin at 6:00 pm, with viewing starting then and continuing for as long as the candles do. 
Apparently, Public Works will be removing the jack o'lanterns on Tuesday. So, if you want yours back, be sure to grab it on Monday.
Rec's flyer also announces that Chestnut Hill Farm will be selling pumpkins for $5 on Saturday from 10:00 am – 2:00 pm and have free carving stations set up.