Southborough Gardners' Guest Day is coming up in a couple of weeks. So mark your calendars, notify your friends, and email organizers for your discount tickets.
The annual holiday fundraiser will be held Thursday, November 10th, 10:00 am at Pilgrim Church. (Doors open at 9:00 am.)
This year's guest presenter is Thelma Shoneman. She will be creating arrangements in front of the crowd to demonstrate floral designs you can use "Through the Holidays".
Enjoy, tea, coffee and "sweets & savories" while you watch. You might even get to bring a designed piece home, if you're a lucky winner of the drawing.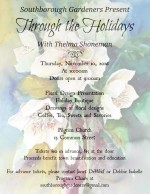 The entry fee is $15 at the door. But you can purchase tickets for $10 in advance by contacting Janet DeWolf or Debbie Isabelle (southboroughgardeners@gmail.com).
(Note: The facility is handicap-accessible; and the event is usually billed as for adults only.)
During the event, the Gardeners will be holding their traditional Holiday Boutique which always includes unique, handcrafted items for sale.