Local artisans will be selling handmade crafts at the Southborough Community House on Saturday, November 19, from 9:00 am – 3:00 pm.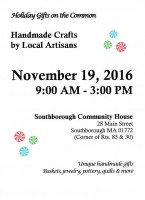 Every year, I'm amazed at the breadth and depth of local talent and beautiful wares. It really is worth checking out.
And unlike large trade shows – entry is free.
This traditional one-day event features artisans from Southborough and nearby towns. (Think of shopping there as participating in Small Business Saturday, just one week early.)
This year items for sale at "Holiday Gifts on the Common" include unique handmade gifts, baskets, jewelry, pottery, quilts and more.