I just learned last night from Scouting for Food organizers that there was a snafu that caused some residents to not receive Scouting for Food bags on Saturday.
After scouts hung bags, a mail carrier unfamiliar with the program* removed them from mailboxes on many streets. That means many of you may not have gotten your bag.
That's OK. Because you don't need to use an official "Scouting for Food" bag to participate. You just need to leave any bags filled with Southborough Food Pantry donations by your mailbox before 9:00 am this Saturday morning.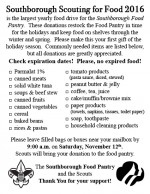 Still, organizers are working on getting bags re-delivered to the effected areas so that everyone gets the word.
(It is the most important drive for the Food Pantry donations all year.)
Bags also had flyers on them with details including some of the more sought after contributions. Click on the flyer right for those details.
The routes that they know were impacted are:
Sadie Hutt
Kennedy
Overlook
Presidential
Winchester
Whistler
Upland
Stowe
E. Main
Glenwood
Hillside
Autumn Hill
Marlboro Road
*In general, it is against the law to place promotional materials on or in people's mailboxes. What the mail carrier didn't realize was that Scouts have been granted permission by the U.S. Postal service to hang the bags on mailboxes as part of the annual food drive.
Updated (11/8/16 12:22 pm): Added flyer