Looking for something to lift your spirits this afternoon? Just think about the excitement kids in town feel when Santa lands on the field in a few weeks. (It's not as far away as you may think!)
Santa will be making his traditional pre-Christmas trip to town on Saturday, December 3rd. Weather permitting, he'll be flying in by helicopter again.
(After all, reindeer can only fly on Christmas Eve, and the North Pole is quite a long trip by car. It just makes sense.)
The helicopter will land on the St. Mark's field at the corner of Routes 30 and 85 at noon. He'll greet the crowd and work his way through to cross the street.
He'll then enter the Community House for his true purpose. There, he'll get a chance to find out from children what they want for Christmas. (The doors close at 3:00 pm and there can be quite a line, so don't wait too late to show up!)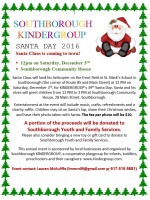 Some of you may think you know the drill by now – but there are a couple of small changes this year.
Instead of paying for entrance to the Community House, there is a fee of $10 per photo. (Though you are also welcome to snap a few of your own.)
The annual event is organized by Southborough Kindergroup. This year, they will be sharing some of the proceeds with Southborough Youth and Family Service.
(They are also asking visitors to the Community House to consider bringing with them a new toy or gift card to donate to SYFS' Holiday Giving program.)
Once you're inside, there can still be quiet a line. But Kindergroup always keeps the kiddies pretty entertained through the wait. There will be holiday music, crafts and other diversions.
When the kids meet the Big Man, they can sit on his lap to share their Christmas wish list. Santa's helpers will take and print photos to take home as mementos.
On the way out, families can celebrate the experience with hot chocolate and treats.
Kindergroup's annual event is put on with the help of sponsoring local businesses.
Santa Day is one of several traditional Christmas celebrations in town the first Saturday in December. Others that I've confirmed are taking place that day are the Library Christmas Tree decorating party for kids, St. Mark's Church's Annual Christmas Bazaar, and the Friends of the Library's Holiday Book & Bag sale. Stay tuned for details on those and more.