Many Southborough children will be enjoying a four-day weekend. For the public schools (and schools that follow their schedule) the Tuesday after Martin Luther King, Jr Day is a Professional Development Day.
If you're looking for something to do – and enjoy skating – you're in luck. St. Mark's School is offering free skate opportunities.
The "Free Skate" time slots are 1:00 – 1:50 pm on Monday, January 16 and Tuesday, January 17.  (Sorry, there is no more "sticks & pucks" action this winter.)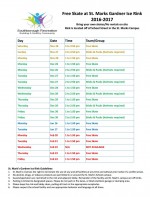 And be sure to save the dates for your final opportunities – the week of February 20th.
St Mark's Gardener rink is inside the Michel Faculty Athletic Center. It can be accessed off School Street (map).
Admission is free, but there are no rentals, so you'll need to bring your own skates.
Some rules do apply. For details, check the flyer.