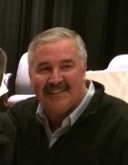 Yesterday afternoon, the Principal of Finn and Woodward schools publicly announced his retirement.
Principal James Randell oversees the education of grades Kindergarten through third grade. He will step down at the end of this school year. It's a decision he called "bittersweet".
In his email to parents, Randell stated that he has been principal of Woodward School (2-3) for twelve years. The principal took on the additional role at Finn School (K-1) after Mary Ryan retired in 2010.
Here is the announcement:
Dear Finn and Woodward School Families,

I am writing today to inform you of my decision to retire in June 2017.

After 35 years as an educator it is certainly a bittersweet decision. I consider myself fortunate to have had the opportunity to be a Principal for the Southborough Public Schools for the past 12 years.

It seems like yesterday when I made the decision to join the community of Southborough as a Principal at the Woodward School and then in 2010 to be the Principal of the Mary Finn School.

The dedication provided by the town of Southborough to provide high quality schools and to educate its youth has been extraordinary. I also appreciate the ongoing support received from the school committee, SOS parent organization, and SEF-Southborough Education Foundation.

I am proud to have worked with the outstanding staff at the Mary Finn and Albert Woodward Schools. I appreciate the mutual respect that we shared in order to bring excellence to our students, and I will truly miss the staff and students at these schools.

Our school district is fortunate to have dedicated leaders in the central office, who are committed to supporting the all of our schools. It has been an honor to serve under their leadership.

My dedication to our schools will continue strong until my retirement and I thank you for your continued support!

Sincerely,

Jim Randell, Principal
Updated (1/18/17 11:16 am): Apologies to Principal Randell (not Randall) for initially misspelling his name!