It seems like everyone I talk to lately hast the same questions.
Do we really need a new, combined Public Safety Building? Does it really need to cost that much? What's going on with the golf course?
If you want to understand the issues better, you should take the time to stop by the library on Thursday night. The Town is holding a public information session. They'll present their plans and answer residents' questions.
The Town sent out an email about the session this morning. It states:
Questions? – If you have questions that you'd like to see addressed, please submit in advance via the "Ask the Committee" [on the website, click here]. There will also be opportunity to ask questions after the Committee's presentation.

Can't Attend? – The Committee has posted answers to some of the frequently asked questions that we receive. Answers can be found here: http://www.southboroughtown.com/public-safety-study-committee/pages/freq…
I believe having these public discussions (and possibly debates) in advance of Town Meetings is helpful for voters. (And hopefully reduces debate time on the floor that night.)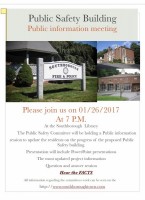 The meeting is a joint session between the Public Safety Committee and the Board of Selectmen.
The focus will be on the building. But the siting at the golf course and land deal with St. Mark's are key elements of the project. So, I expect selectmen to cover those as well.
Which means it's likely that proponents of related citizen petition articles will also be in the audience to make comments.
The session takes place at 7:00 pm on January 26th on the main floor of the Southborough Library.
The Special Town Meeting on the building and golf course is scheduled for March 8th.
Updated (1/25/16 12:20 pm): As a commenter pointed out, I initially referred to the 23rd. The event is January 26th (as listed on flyer).