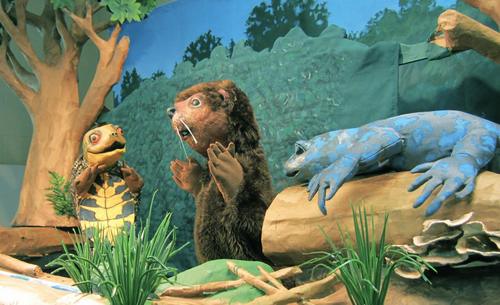 Like Southborough, most schools in the state have a February break the week of President's Day. The Museum of Fine Arts in Boston is using the week to offer special free programs for kids. And a Southborough artist has been commissioned to be part of it.
Admission for children 17 and under is free from February 20-24.* And it's a great time to take the kids to see exhibits. Each day, the museum is holding one free 40 minute puppet show.
Two of those days will feature a show by Southborough's Deb Costine. The show "Turtle's Wetland Quest" features a beaver among other characters. It's fitting, since Costine's backyard sits right by a beaver dam on the Sudbury River (or what she refers to as a beaver pond).
"Turtle's Wetland Quest" introduces the Blanding's Turtle who seeks a new safe wetland habitat for her family. When she meets young Castor, the North American beaver, she soon finds her quest is complete! The show was carefully researched, written, designed and built by Debbie and received partial funded by a grant from the Jim Henson Foundation.
The show is part of the week's theme Make Way for Animals. Costine's show take place Wednesday, February 22 and Friday, February 24  at 11:30 am and 1:30 pm.
Other fun for kids that week includes Family Art Walk, Story Hour, and Art Making Activities. (Click here for more details.)
If you're thinking of taking the kids, don't forget that adults aren't free. But if you plan ahead, you can get a discount through the Southborough Library's museum pass program.
*Normally, Kids 6 and under always get free admission to the MFA, but kids 7 to 17 are only free during non-school hours.