This Saturday, the community is invited to "a free, noncompetitive, family-friendly learn-to-fish event." Organizers promote:
Learn some new skills, then go try to catch a fish!
The Drop-in Fishing Clinic is geared to teaching children aged 6-14. (Though, it's not limited to those ages.)
The event is at Hopkinton State Park from 10:00 am – 2:00 pm. Rods and gear will be provided, as well as free park admission.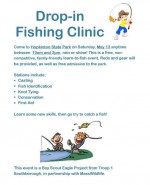 At clinic stations kids will learn:
Casting
Fish Identification
Knot Tying
Conservation
First Aid
This event is a Boy Scout Eagle Project from Troop 1 Southborough, in partnership with MassWildlife.
Fishing will take place rain or shine!