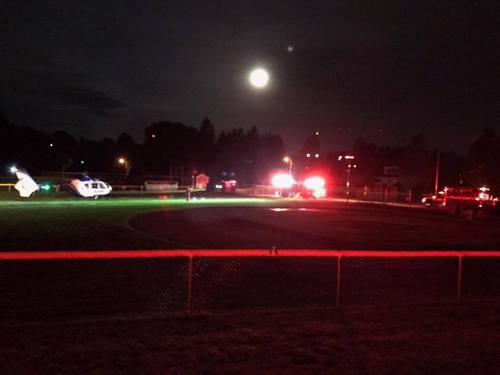 Around 3:30 am yesterday morning, two car crashes took place on Route 9 by Parkerville Road. One driver was injured seriously enough to be transported to UMass Medical by Lifeflight. According to Southborough Police, that injured driver was Christine Collins of Georgia.
Police are currently investigating the accident. Anyone with information is asked to contact the department.

Collins was apparently driving from the south side of Parkerville Road when she drove straight on into Route 9's concrete barrier. The second accident involved a driver who was seeking to avoid Collins' car. That driver suffered only minor injuries.
Fire Chief Joe Mauro responded to my inquiries, explaining:
The first unit on scene reported a single vehicle into the jersey barrier and one occupant injured. The driver was a female and the sole occupant of the vehicle. There was no entrapment and she was quickly removed and found to have serious injuries. A Life Flight helicopter was requested due to the nature of the injuries and she was transported to the Mooney Field landing zone where a Umass Medical Center helicopter transported her to that facility.

A second person was transported from a vehicle that witnessed the accident but was not involved in the accident. The occupant of that vehicle had to avoid the first vehicle which resulted in an injury. The driver was transported by a Hopkinton Fire Dept. ambulance to Metro West Framingham with a minor injury.
Southborough Police followed up with a press release:
On August 7, 2017, at approximately 3:30 AM Southborough Police officers respond to a single motor vehicle accident at Parkerville Rd. and Rte. 9. A preliminary investigation revealed a 2017 Honda CRV operated by Christine Collins of Riverdale, Ga. was traveling northbound on Parkerville Rd. and collided head on with the Jersey Barrier on Rte. 9. Ms. Collins sustained major injuries and was transported to UMASS Medical Center via Life Flight. The Southborough Police along with the CEMLEC Accident Reconstruction Team are investigating the cause of the collision. If you have any information you are asked to contact Det. Nichols (508)485-2121.
Earlier this year, Town Meeting voters approved a project to install tall lights at Mooney baseball field at Finn School. Before selectmen supported the article, they were reassured that the new light fixtures will not interfere with use of the field as the Lifeflight landing area.