On Saturday, a collection drive for victims of the storm in Houston* is being hosted by the Southborough Senior Center. The drive will run from 8:00 am – 4:00 pm.
In addition to much needed donations, organizers are seeking volunteers. The items being collected will need to be boxed and packed into the trailer.
The drive is being organized by Selectwoman Lisa Braccio* and resident Stefanie Cappello. Supporting Southborough's efforts are sponsors Cappello Heavy Transport and Wee Care for Little Ones. The drive is partnered with Nightingale Visiting Nurses which has a satellite collection site in Taunton.

The community has turned out in force for past collection drives organized by Braccio and friends.
But those drives to support the troops generally had more notice and didn't take place on holiday weekends. Unfortunately, natural disasters don't operate on a convenient schedule.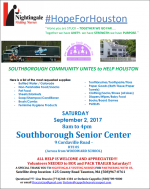 So, please help get the word out by sharing the flyer on Facebook or other social media. Let's hope Southborough can show its generosity this weekend.
Below is the list of much needed items. If you have additional questions, contact Braccio at 774-248-1381 (or BraccioLisa@gmail.com) or Cappello at 508-787-9800 (or Stefanie@cappelloheavytransport.com).
Here is a list of the most requested supplies:

Bottled Water / Gatorade
Non-Perishable Food/Snacks
Pet Food
Sheets/blankets
Soap/Shampoo/Conditioner
Brush/Combs
Feminine Hygiene Products
Toothbrushes/Toothpaste/Floss
Paper Goods (Bath Tissue/Paper Towels)
Clothing/Socks/Shoes (all sizes)
Diapers/Wipes/Baby Food
Books/Board Games
Puzzles
*As you should know, Houston was hit by Harvey, a hurricane then tropical storm, which stalled over the region for days. The area was devastated by 40-50 inches of rain and massive flooding. Today's reports estimate 30-40,000 homes were destroyed.