Do you have a legitimate reason you can't make it to the polls on Tuesday, November 7th? If so, you can apply for an Absentee Ballot. The ballots are already available.
According to the Town Clerk, Massachusetts allows voters to vote by absentee ballot if they:
will be absent from the city or town on election day, and/or
have a physical disability that prevents voting at the polling place, and/or
cannot vote at the polls due to religious beliefs.
To apply for a ballot for yourself or a family member click here to do it online. Or you can fill out an application at the Town Clerk's office (Monday, Wednesday, Thursday: 8:00 am to 5:00 pm;
Tuesday: 8:00 am to 7:00 pm; and Friday: 8:00 am to 12:00 pm.)
The deadline for requesting an Absentee Ballot is noon on Monday, November 6th.
If you are voting in person, remember – beginning this election, all three precincts will vote in the Trottier Middle School gym at 49 Parkerville Road. The polls will be open from 6:30 am to 8:00 pm on Tuesday, November 7th.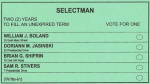 If you're looking for more background on the four candidates – Click on the image right for the official names on the ballot. For a reminder of their backgrounds, click here. But, if you really want to learn more about them, save the date for Candidates' Night, November 1st.