Southborough Youth and Family Services has announced the annual NON-event of the year, Southborough UNscheduled.
This year, the evening held by Southborough (and Northborough) is Thursday, March 15.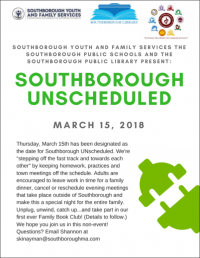 For those of you unfamiliar. . .
The goal is to organize one special night to help families reconnect in an era of over-scheduling and individual-use electronic distractions.
Parents are asked to come home in time for family dinner and cancel out of town meetings and/or activities.
The event is coordinated between Town government, district schools, and the Library.
That evening, there will be no homework assigned, practices/games held, or meetings of community organizations or town boards. It should also be free of special events around town.*
It looks like this year, SYFS will be tying in its "UNplugged" campaign. The flyer teases a Family Book Club to help encourage that. (Stay tuned for details.)
In the meantime, book the evening of March 15th in your calendar as "UNscheduled" and look forward to some family bonding time.
*There are sometimes after school events – as long as they are scheduled to end before dinner time. And the prohibition on evening practices and games applies to town and district leagues. (Though, obviously families are encouraged to opt out of practices/games elsewhere, too.)