Algonquin will hold a clinic for K – 8th grade boys and girls over the upcoming school break. The flyer pitches an intense clinic for all players who want to get better at playing basketball while having fun.
The morning camp costs $30 per day, per child. The schedule is Monday, February 19 – Thursday, February 22 from 9:00 am – noon at Algonquin. You can sign kids up for all four days, or as many as you choose.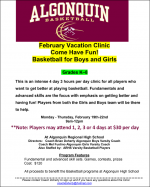 If you're looking for a Friday option (or alternatives) check out my post on other camps and clinics that week here.
It's worth noting that this is one of only two local camps I came acrosss that covers the Monday of the break (President's Day)*. So, even if you have kids signed up for other activities that week, you may still want to take advantage of this offer.
The program is run by Algonquin Regional High School's varsity coaches for the Boys and Girls teams. It will also be staffed by players from both.
They will focus on teaching fundamentals and advanced skills. Games, contests and prizes will help keep it fun.
As always, the clinic is a fundraiser for the ARHS basketball program. To register or learn more, email coachdoherty@hotmail.com.
*The other camp that covers Monday is the Ski Ward program.