The Open Space Preservation Commission is holding its annual Winter Wonderland event this weekend. Unfortunately, capricious Mother Nature is making planning difficult.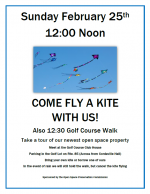 The group will be holding a walk on the Town's new property, St. Mark's Golf Course. (Though, by tonight, it could have another name.)
They originally hoped for a snowhoe hike. The backup plan was flying kites. But it looks like it's more likely to be a walk under umbrellas.
Still, this is New England – and we all know the forecast can change between now and Sunday. So, the group is still hoping for high flying fun.
Rain or shine, the OSPC will be leading a walk on the golf course at 12:30 pm, Sunday, February 25th. If rain holds off, the public is invited to join them for kite flying that afternoon. Kite flying begins at noon.
Organizers have some kites to share, but residents who own one are encouraged to bring their own.
The event is free to the public with parking available at the lot on the Cordaville Road side of the property.