The Southborough Senior Center is holding more special events in its kitchen this spring. The Center is hosting two overlapping cooking demonstration series. One focuses on the culinary arts with guest chefs. The other is run by the center's nutritionist to guide seniors on easy, healthy options.
First up next week is treat – "Dessert for Two". It's part of the chef demos by the Culinary Underground through May.
The following week features a holdover from March that was cancelled due to a storm. Nutritionist Karen White will demonstrate how to make "Oats in a Jar".
The sessions then shift back to the Culinary Underground series for the remainder of the month.
Then, in June, the kitchen will again host White with more demos focusing on ways to jazz up simple and healthy options for lunches and dinners.
There is a suggested donation for each class of $3. For each of the sessions, seniors need to sign up, since room in the kitchen is limited. Stop by the center's front desk or call 508-229-4453.
Here's the schedule: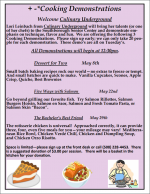 Culinary Demo: Dessert for Two – Tuesday, May 8th, 12:30 pm
Small batch baking recipes rock our world—no extras to freeze or tempt. And small batches are quick to make. Vanilla Cupcakes, Scones, Apple Crisp, Quiche, Best Brownies
Nutrition Demo: Oats in a Jar! – Tuesday, May 15th 11:30 am
Come find out how to do this trendy delicious breakfast! Each participant will get to make their own jar and enjoy it at home! In order to have enough mason jars on hand for this fun activity please make sure you sign up early.
Culinary Demo: Five Ways with Salmon – Tuesday, May 22nd, 12:30 pm
Go beyond grilling our favorite fish. Try Salmon Rillettes, Salmon Burgers Hoisin, Salmon en Saor, Salmon and Fresh Tomato Pasta, or Salmon Skin "Bacon".
Culinary Demo: The Bachelor's Best Friend – Tuesday, May 29th, 12:30 pm
The rotisserie chicken is universal! Approached correctly, it can provide three, four, even five meals for you—your mileage may vary! Mediterranean Rice Bowl, Chicken Verde Chili, Chicken and Dumpling Soup, and Chicken Orzo Risotto.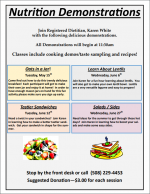 Nutrition Demo: Learn About Lentils – Wednesday, June 6th, 11:30 am
Join Karen for a fun hour learning about lentils. You will also get to make your own lentil bowl. Lentils are a very versatile legume and easy to prepare!
Nutrition Demo: Tastier Sandwiches – Tuesday, June 12th 11:30 am
Need a twist in your sandwiches? Join Karen in learning how to make a better tastier sandwich. Get your sandwich in shape for the summer
Nutrition Demo: Salads / Sides – Wednesday, June 27th 11:30 am
Need ideas for the summer to get through those hot days? Join Karen in learning how to boost your salads and make some easy sides.