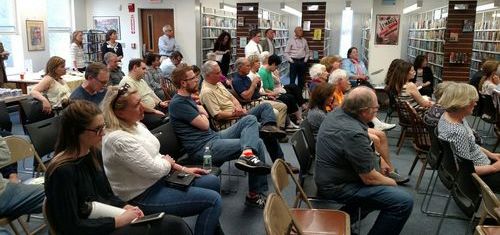 Last night, the Southborough Library hosted its annual pre-Town Election event, Candidates' Night. The night featured candidates running for contested seats, including the Board of Selectmen and School Committee (K-8). And those are the two races that were covered in Southborough Wicked Local's highlights.
Look for coverage of the Library Board of Trustees' race from me in a future post. For now, here is SWL's recap of last night:
Selectman candidate Sam Stivers says he'll be proactive when it comes to growth and development, supports greater government transparency and will listen to everyone in town.

"I think we need to have efficiency, reasonable expenditures and at the same time work to maintain the rural quality of life that we have in our beautiful town," he said at a candidates' forum at the Southborough Library Wednesday night. He ran in last year's annual election and a special election in the fall, but failed to gain a seat.

Incumbent Selectman Brian Shea, who is running for his second term, said he's proud of the work he's done over the past three years including the public safety complex project, finalizing a preservation restriction on the Burnett House and securing state and federal money for the Main Street reconstruction project.

"Cooperation, collaboration and good government in action is what the people in this town deserve with the taxes they pay," Shea said. "And that is what we have delivered.". . .

[On financial stability and Rec projects] As a member of the Advisory Committee, Stivers said the board did an analysis on all upcoming projects and wants to revive a capital planning process. He'll strive to explore public-private partnerships, mentioning a developer turning the former St. James Church property in Wellesley in a recreation center with ice rinks.

"I think (they're) out there, but you have to look for them," he said.

Shea said the proposed Recreation Commission's projects are a balance between need and affordability and the town can't take all the projects on at once.

"The town has a lot of needs, the fields are definitely one of them," he said, noting he coaches a Southborough soccer team that meets at Ashland High School. "That speaks to the volumes of Southborough's need to fix its fields."

School Committee

Three candidates are running for two seats on the town's K-8 School Committee:

Jessica Devine runs her own business, and volunteers in the school where her two girls are in third and sixth grade. Her top priorities include increasing school safety, reducing student stress and improving the school and School Committee initiatives.

"Our schools are fantastic and I want to help keep them strong," she said. "But there are changes I would like to see and from talking with people in town I think there are many changes people want to see."

John Gobron, who works as a business executive, said the town has one of the best school districts in the state. He said he's led by listening.

"Building an excellent school system requires building prioritization around dedicating to teachers and giving them the resources they need and supporting them while they do their jobs," he said. "But like our family budgets we can't have it all. We have to be as aggressive as possible at pursuing our highest priorities."

Jennifer Primack, who works as a clinical psychologist, educator and researcher, is running for School Committee to ensure the continued success of the schools. She said she has the skills to know what the town's children need and has attended many School Committee meeting and school functions.

"I strongly believe that policy decisions that we make need to be driven by data and not personal feelings," she said. " … I think our schools are moving in the right direction, but I believe we can do more."
Click here for the full story. Reminder, each candidate submitted a statement to the blog. You can find those here.
Southborough Access Media also attended the event. You can expect them to post a video, but events filmed at the Library take a bit more time to produce than those in the wired Town House Hearing Room. So, that's not available yet.
You can check SAM's YouTube channel to see if anything is posted yet. (I will also be sharing that on the blog.)