The Economic Development Committee is seeking a few more residents to give their feedback on downtown Southborough this Wednesday from 11:00 am – noon. It's one of two related invitations for that day.
As I posted last week, the EDC is hosting sessions with the Urban Land Institute this Wednesday. It is part of their initiative to improve the Downtown Business Village on Main Street. ULI will offer expert advice. But first, they will interview key interest groups – residents and business owners.
Initially, the EDC invited residents who live near downtown. Now, with a couple of seats still open, they are inviting any interested residents to sign up. It's first come, first serve and there are only a couple of seats left. That panel will exclude Town officials "to encourage free and open discussion." (Scroll down for details on signing up.)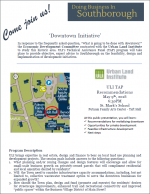 In a second invitation, the EDC is again inviting the public to ULI's presentation scheduled for that evening at 6:30 pm. This time, they are offering more details on what to expect (and where to go). You can find those in the flyer. (Click right for the image, or here to open the pdf.)
Here's the EDC's new announcement:
Improving our Downtown – Visit with the Urban Land Institute on May 9th, Please Join Us

The Economic Development Committee will be hosting the Urban Land Institute for an all-day visit as part of its Technical Assistance Program on Wednesday, May 9th. Please see the attached flyer and previous blog posts for additional information. The program will include a tour of downtown, followed by two panel interview sessions with individuals who will be most closely affected by changes to the Downtown – Downtown residents and business owners.

After inviting Downtown residents, there are two remaining spots available on the residents' interview panel, and the EDC would like to invite other members of the public to fill those slots. The requirements are as follows: (1) you must be a resident of Southborough, (2) you must be available to participate at St. Mark's on Wednesday, May 9th at 11:00 a.m. for one hour, and (3) Town employees, committee or board members, or anyone running for such a position, cannot participate. ULI has specifically requested that public officials be excluded from the panel interview session to encourage free and open discussion. If you meet the above requirements and would like to participate, please contact Dominque DuTremble at ddutremble@southboroughma.com or Julie Connelly at jconnelly@seyfarth.com no later than Monday, May 7th at 4:00 p.m. Panel spots will be granted on a first come, first served basis.

Additionally, the EDC invites all members of the public to join us for a presentation by ULI of its preliminary findings and recommendations for improving our Downtown. The presentation will be held at St. Mark's Taft Building at 6:30 p.m. on Wednesday, May 9th. We welcome and encourage your participation and input.