Mother's Day is just around the corner. As always, the Southborough Gardeners are making it easy to find a great gift through their pre-holiday sale. But this time, they're giving residents an extra reason to swing by.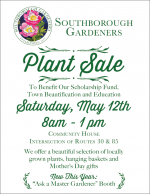 The Gardeners have added a special booth. If you're an amateur gardener with questions, you can Ask a Master Gardener.
On Saturday May 12th, the group will hold its annual Plant Sale at the Community House (at the corner of routes 30 and 85).
The sale will include a wide selection of annuals, perennials and hanging baskets.
Everything sold will be suitable for spring planting. (And I think we can trust the Southborough Gardeners to know what does well here in the spring!)
The plants are donated by club members, some even transplant from their own gardens. (I can't wait to see what's sprung up this year.)
Sale hours are from 8:00 am – 1:00 pm. For the best selection, shop early!
Proceeds from the public sale will support town beautification, education, and the Southborough Gardeners' Scholarship Fund.
Updated (5/8/18 8:53 am): I mistakenly had listed the event as going on an hour longer than it is scheduled for this year. It runs until 1:00 pm.