As I posted last week, the Fayville Playground on Central Street opened for play this month. A week from Saturday, the Town will celebrate the long awaited event with a Grand Opening.
As long as I'm reminding readers about the celebration – it's a good time to revisit the playground history and what's still to come.
The celebration will include face painting and treats for sale. But the big focus will be thanking sponsors who helped fund extra play structures. And, for kids, exploring the structures will be a big draw. (You can check out my pictures of the new equipment here.)
The event will take place at 10:00 am on August 18th, with a rain date of Sunday, August 19th.
Visiting the playground last weekend, I was excited that the new equipment offers a lot of fun for a wide range of ages. And there were more structures and activities than I expected. (I shouldn't have been surprised since some parents and community members chipped in when they worried that the original design didn't offer enough for 2-5 year olds. Thus, the Town's need to thank patrons.)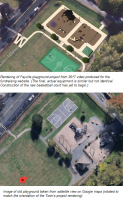 And, the new design covers a bigger organized play area than ever. The playground covers not only where the old structures stood, but also the old basketball court. A new, lit court will be built on the adjacent field. (That project is slated to start this fall. Click on image right to compare the old and new locations.)
Still, I felt nostalgic for the play structures that my kids used to enjoy as tots. Of course, part of that is just nostalgia for them as younger kids. For those with families whose kids are still young, I don't expect the new equipment to disappoint.
The memorial park was first built in 1960. The wooden lot was built through a community project in the late 90s*. Last year, Rec Director Doreen Ferguson explained that the Rec Commission decided to replace the equipment because the Town was no longer able to secure replacement parts. (You can find pictures of the old playground here.)
When the playground took a hit from strong winds (possibly a tornado) in summer 2016, the playground temporarily closed. At that time, the Commission decided that moving ahead with the replacement project made more sense than a temporary fix followed by a replacement project.



It's worth noting that Saturday's ceremony won't be all about the new. The event will also serve to rededicate the memorial park to Harold E. Fay – the first Southborough resident killed in World War II.
*Updated (8/16/18 4:36 pm): According to a letter from a former member of the Rec Commission, the community project to build the community lot was 1998-99, not in the 80s as previously stated. You can read his great description here.