Looking to "paint the town"? Head over to Algonquin next week for some roaring 20s style jazz. Students will perform the musical Chicago.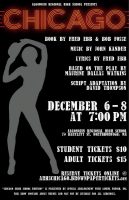 The school is putting on the high school version of the play. Performances will take place in the auditorium the evenings of Thursday, December 6 – Saturday, December 8 at 7:00 pm.
Tickets are $10/student or $15/adult. They are already being sold in the main office and online with a small convenience fee.
For those of you unfamiliar with the play, its a musical full of infectious music and dark humor.
Two strong female leads are at the heart of the action. According to the school paper, The Harbinger, students were surprised by both roles going to underclassmen. One of those is freshman Sarah Boush from Southborough, featured right in the photo below on Facebook. (Read more here.)
Of course, more than two girls make up the ensemble cast. GonkArts.org sums up the plot:
(click to enlarge)

Set in the legendary city during the roaring jazz hot 20s, Chicago tells the story of two rival vaudevillian murderesses locked up in Cook County Jail. Nightclub star Velma is serving time for killing her husband and sister after finding the two have been having an affair. Driven chorus girl Roxie has been tossed in the joint for bumping off the lover she's been cheating on her husband with. Not one to rest on her laurels, Velma enlists the help of prison matron Mama Morton and slickster lawyer Billy Flynn, who turn Velma's incarceration into a murder-of-the-week media frenzy, thus preparing the world for a splashy showbiz comeback. But Roxie's got some of her own tricks up her sleeve.