The Southborough Historical Society is launching a Speaker Series. This spring, it will focus on Women in History as part of a "Voices Found" theme for 2019.
The first three talks offer attendees a chance to "meet" some of the groundbreaking figures in history. SHS has lined up the first American females to be soldier, astronaut, and First Lady.
You may have realized by now that none of these women are still living.
No, SHS won't be hosting seances. Historical performers will dramatically portray the women to share their stories.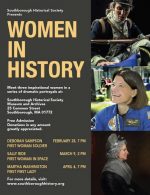 First up is "Deborah Sampson". SHS describes her as:
the first woman to fight in and be honorably discharged from the American Military. She enlisted in the 4th Massachusetts Regiment of the Continental Army as "Robert Shurtlieff." Come and learn how and why she disguised herself and fought alongside male soldiers.
The talk will take place on Thursday, February 28 at 7:00 pm at Southborough Historical Society's Archives & Museum, 25 Common Street.
Admission is free (but donations are greatly appreciated.) Space is limited, so reservations are required. To register, click here.
This month's featured performer is as portrayed by Judith Kalaora from History at Play. Her press materials promote:
Featured in news media outlets, including WCVB Boston, CBS WBZ The Jordan Rich Show, The Associated Press, and The Washington Times, Kalaora expressed the delight and difficulty in portraying America's first professional female soldier, Deborah Sampson. Jordan Rich states, "She's a one-woman force of nature and inhabits these women…it takes people like Judith to bring these stories to life…these lost pieces of history." The Associated Press described Kalaora as a woman "drawn to characters who seem conflicted about society's gender roles…Kalaora not only portrays these women on stage, she emulates them in life, starting her own company to portray and educate about 'influential, but oft forgotten women.'"
Two more sessions in the SHS series will follow later this spring:
Saturday, March 9 at 2:00 pm – Sally Ride, the first American astronaut in space, portrayed by Sheryl Faye
Thursday, April 4 at 7:00 pm – Martha Washington, our 1st First Lady, portrayed by Anne Barrett
For more information on the Southborough Historical Society Museum, visit www.southboroughhistory.org.