Next month, the Southborough Library is hosting another special gardening program. Experts from Blackstone Valley Veggie Gardens will hold a talk on "Raised Bed Gardening".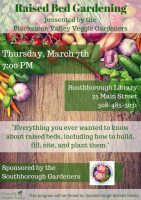 The BVVG's latest lecture at the library will cover:
Everything you ever wanted to know about raised beds, including how to build, fill, site, and plant them.
So, why would gardeners want to build raised beds? A description from a past BVVG talk on the topic at another library explains:
Control your soil, minimize weeds. Start gardening earlier.
The presentation takes place on Thursday, March 7th at 7:00 pm. No registration required.
This session is sponsored by the Southborough Gardeners.