In a couple of weeks, the Southborough Recreation Department is again hosting a bit of Irish fun with help from Southborough Kindergroup.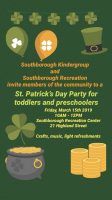 The St. Patrick's Day party takes two days early.
The community is invited to the free party for toddlers and preschoolers on Friday, March 15th from 10:00 am to noon.
There will be crafts and light refreshments.
There will also be Irish music with Dave Garden from 11:00 – 11:30 am.
The event will take place at the South Union Building, 21 Highland Street. No registration is required.
Updated (3/1/19 10:18 am): I originally confused the Ides of March and St. Patrick's Day by claiming the party takes place on the "actual" holiday this year. (Does that mean I have to officially relinquish my claims to being 1/4 Irish?)