If you think your middle schooler might enjoy playing Rugby, then you'll want to mark your calendar. On March 20th an info night will be held for parents.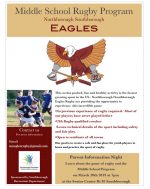 The co-ed program is open to kids of all levels (including no experience). The team will be coached by USA rugby qualified coaches. Southborough Rec describes:
Rugby is a fast paced, fun, safe and exciting sport. This game was created when breaking the rules of soccer by picking up the ball and running with it. It is now the fastest growing sport in the US. This sport teaches teamwork, field vision, and dynamic thinking under pressure.
The new team, "The Eagles" are aptly named. The launch is organized as Troop 92 Scout Edward Gostick's Eagle Scout project. As the image on the flyer hints, organizers hope it will serve as a "feeder team" to Algonquin's varsity program.
A $95 program fee covers equipment, a tshirt, and tournament fees. "Training" will be held on Sunday mornings and Wednesday evenings in Southborough (at Liberty Estates grass field). The program will start April 28th and run through the Bay State tournament games in July.
The program is sponsored by Southborough Recreation. You can sign up through Rec's website here.
The information night takes place at the Senior Center on Wednesday, March 20th at 7:00 pm. If you have any questions, you can contact team organizers at nseaglesrugby@gmail.com.