Thanks to a grant, Southborough Seniors have access to a discounted, starter fitness class. Last week, a progressive 16 week program kicked off. With just two classes behind them, it's not to late to join the group.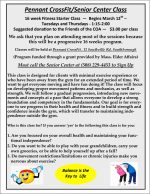 The Senior Center and Pennant CrossFit promote:
This class is designed for clients with minimal exercise experience or who have been away from the gym for an extended period of time. . .

Our goal is for everyone to see progress in their health and fitness and to build strength and confidence inside the gym, which will transfer to maintaining independence outside the gym.
The classes focused on "gradual progression" are held Tuesdays and Thursdays from 1:15 – 2:00 pm at Southborough's Pennant CrossFit (12 Southville Road).
There is a suggested donation of $3 per class to Southborough's Council on Aging.
The program is made possible by a Mass. Elder Affairs grant. Registration is coordinated through the Southborough Senior Center. To sign up call 508-229-4453 or stop by the Senior Center's front desk.
For more details, click on the flyer above right.