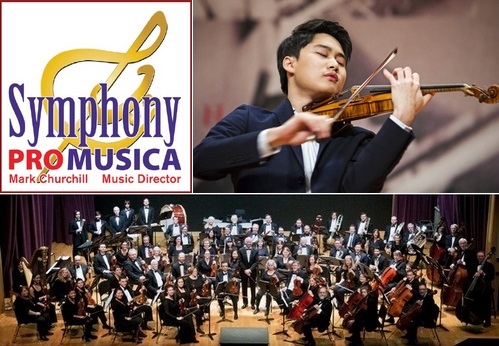 I forgot to include it in my Events of the Week post – so I'm sharing this special reminder.
This weekend, Symphony Pro Musica is holding its final two performances of its 36th season. Once again, one of the performances will be held in Southborough at St. Mark's School.*
The theme is "Virtuosity". As usual, the orchestra will feature a special guest performer. This time, it's a 23-year-old "rising violin star" who has already won major international competitions.

Inmo Yang was the first-prize winner of the internationally renowned Paganini Competition. He will perform Tchaikovsky's beloved and tuneful Violin Concerto. SPM's press release expounds:
Yang recently released a critically acclaimed recording of the 24 Paganini Caprices on the world's most celebrated classical music label, Deutshe Grammophone. He plays on the "Joachim-Ma" Stradivarius of 1714, which was used for the premiere performance of the Brahms Violin Concerto, through the generosity of New England Conservatory. (Listen to Yang on this recent American Public Media's "Performance Today" presentation of Paganini's Caprice No. 11 at https://is.gd/JxX9D8.)
Music Director and Conducter Mark Churchill enthused:
We are honored to collaborate with Inmo Yang. . . He's a young superstar who's already on the road to a major international career. He plays with mature grace and subtlety, and his technique is second to none. He plays the violin exactly as I think it should be played!
The concert isn't all about the guest. The orchestra will also be playing three other pieces:
The SPM program also features two movements from Florence Price's Symphony No. 1, Juba Dance and the Finale. Premiered by the Chicago Symphony in 1933, Price's first symphony is the first major work by black woman to be performed by a leading American Orchestra. Price, who studied at the New England Conservatory in Boston, is now being widely recognized and performed all over the world. "We are honored to take part in celebrating this long-neglected American musician," says Churchill.

Rounding out the program is Shostakovich's youthful Symphony No. 1, both exuberant and dramatic. Although written in 1924-25 as his graduation piece for the Leningrad Conservatory, the work remains one of the composer's most cherished compositions.
The Southborough concert will be held at 3:30 pm in Class of '45 Hall in the school's Putnam Family Arts Center. (Click here for a map.)
The event is free to students and first time SPM concertgoers. General admission is $25 per adult and $20 per senior. Click here to purchase advance tickets.
Prior to the concert, the orchestra will hold a pre-concert talk at 2:45 pm in the hall.
*If you can't make Sunday's concert, you can head to Hudson High School the night before for its 7:30 pm performance.