May 30th will be a night of celebrating Art and Wellness in downtown Southborough. The evening will feature two receptions coincidentally scheduled by community groups that same night.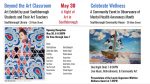 They are now working together to make the most of it. Organizers are promoting a Night of Art in Southborough.
Hopefully, the convenience of locations a stone's throw away from each other will help draw an even bigger audience for both events.
The evening kicks off at 6:00 pm at the Southborough Library with Beyond the Art Classroom. The free exhibit is sponsored by Southborough Cultural Arts Council. It will feature art and design work by previous Southborough students and their art teachers.
The exhibition will be on display in the Library's upstairs area through that Saturday, June 1st. But the Thursday night Opening Reception offers "Light Refreshments & Comradery" from 6:00 – 6:30 pm followed by the opportunity to meet and greet the 20 artists during an "Artist Stroll".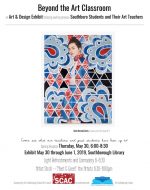 Artists taking part are:
Martha Bachman
Caitlyn Beck-Sabino
Fred Bloy
Joyce Caras
Susie Carter
Sam Chase
Mary Ann Croatti
Arianne Del Rios
Amy Dietz
Katie Dobberpuhl
Heather Dubois
Marsha Gleason
George Hancin
Denise Johnson
Daniel Martins-Ferreira
Palmer Morse
Michelle Sheppard
Courtney Steacie
The event will run until 8:00 pm. But you won't want to meander that long. Another reception across the corner will be beckoning.
Southborough Youth and Family Services is organizing a "one night only" community art show – Celebrating Wellness – at the Community House, 28 Main Street. The focus is honoring Mental Health Awareness month. The 7:00 – 8:30 pm reception will include live music and refreshments.
At 7:45 pm, SYFS will present the Laurie Sugarman-Whittier Wellness Award. According to their updated flyer, this year's honor will go to Mary Ellen Duggan.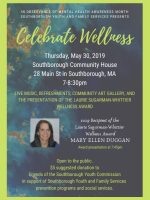 Some of you may recognize Duggan as the school nurse at Woodward School. She is the co-organizer for both the school's free before-school Wake Up and Work Out program and its Green Team after-school program.
As for the art – expect the exhibit to include art that fits the theme of mental health, wellness, mindfulness, etc. The showcase will also feature work from students that took part in the agency's Mindful Art program this spring.
The event is open to the public, but there is a suggested donation of $5 to Friends of the Southborough Youth Commission in support of Southborough Youth and Family Services prevention programs and social services.