In two weeks, Algonquin will host a talk warning area parents about the impact of marijuana on mental health.
The presentation "Marijuana Addiction and Mental Health: What We've Learned in the Past 5 Years" is organized by the Northborough-Southborough Substance Abuse Prevention Collaborative, along with the Hudson Youth Substance Abuse Prevention Coalition, the MetroWest Substance Awareness & Prevention Alliance, and the Massachusetts Prevention Alliance.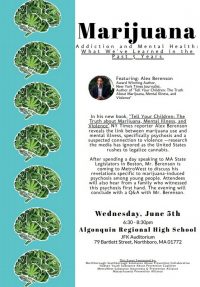 It will take place in the Algonquin Regional High School auditorium on Wednesday, June 5th from 6:00 – 8:30 pm.
Organizers promote:
Adolescent use of marijuana has been on the increase over the past decade. This rise is seen as more teens perceive the drug as being safe. With the entry of the electronic vapor device industry into the cannabis market, we have seen a sharp increase in the number of adolescents vaping high potency marijuana. Almost 20% of teens who use will become addicted to the drug. We are now seeing more and more teens suffer the many harmful physical and emotional consequences of marijuana use; especially concerning is the rise in Cannabis-Induced Psychosis. We are fortunate to have journalist Alex Berenson, author of "Tell Your Children: The Truth about Marijuana, Mental Illness, and Violence" speak about this topic to our community.
And:
In his new book, NY Times reporter Alex Berenson reveals the link between marijuana use and mental illness, specifically psychosis and a suspected connection to violence —research the media has ignored as the United States rushes to legalize cannabis. He will discuss his revelations specific to marijuana-induced psychosis among young people. Attendees will also hear from a family who witnessed this psychosis first hand. The evening will conclude with a Q&A with Mr. Berenson.