This summer, two Southborough athletes made local headlines. Plus, the day after I posted about Algonquin's spring All Stars, the Telegram finally posted it's picks online.
Here's a look at the media coverage of Southborough and Algonquin athletes this summer:
"Jack Tobin and Nico Ciolino start budding rivalry on golf course"
Wicked Local covered the star players, competing at the Marlbrough Country Club tournament:
A budding rivalry: Southborough's Jack Tobin, Marlborough's Nico Ciolino share a friendly competition on the golf course https://t.co/xr2DDTFb5Q

— MetroWest Daily News (@metrowestdaily) August 6, 2019
On Sunday, Tobin took home the Marlborough Country Club Men's Club Championship trophy for a second straight year.

The two consecutive titles provide motivation for both Tobin and Ciolino.

"For the most part our relationship is amazing in the sense that we can be so relaxed with each other but at the same time keep each other on edge by wanting to beat each other and get better," Ciolino said. "It's all fun and games but at the same time we go up there pretty focused and try to beat each other."
The story also included the players' career highlights and favorite golf memories, plus it's peppered with photos and videos.
Wicked Local also shared audio of Tobin talking golf with a Wicked Local reporter on its From the Newsroom podcast.
"Southborough's Matt Trehub has big league dreams"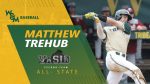 This summer, Trehub, a rising senior at William & Mary, was named an All-State player by the Virginia Sports Information Directors.
Last month, Wicked Local wrote about the college senior's status and goals. As of mid-July, he was prevented from playing in the summer league by elbow problems:
Trehub has had a history of arm trouble. During his freshman year of high school at Buckingham Browne & Nichols in Cambridge, the catcher had surgery on his elbow. Fortunately for him, he hasn't had any major arm issues since.

When his arm started barking three weeks ago, however, Trehub wasn't all that concerned.

"I wasn't super freaked out that anything major was wrong," Trehub said. "I was just kind of being smart about it and taking a little bit of time off and just letting things rest, getting right and hopefully I'll have the opportunity to go back and finish it off."

After getting the all-clear from doctors, ruling out any more serious issues with his elbow, Trehub has been spending the last couple of weeks resting and rehabbing with some light throwing.

Swamp Bats owner and general manager Kevin Watterson is optimistic about Trehub possibly rejoining the club later this summer.

"There is a pretty good chance that he will be able to come back and rejoin us for the playoff push," Watterson said. "We need him." . . .

Grinding through all these summer leagues on top of the long Division I college baseball season is all designed to help Trehub hopefully achieve his lifelong dream of playing professional baseball.
The story also covered his success playing for William & Mary.
Hometeam Spring All Stars
The Telegram posted its All Star selections from the spring season:
(Click here if you missed my list of spring athletes honored by the Daily News and Mid Wach coaches.)