Next week, the Southborough Library is bringing back Ed Popielarczyk to tickle kids' funny bones.

Some of you may remember the comedic magician from his act at the Library in 2017. More will remember his antics when he brought his "flea circus" to the Library last summer.
Ed's website describes:
Ed's philosophy on performing magic is to entertain first and to amaze second. As long as everyone is laughing and having a great time he has met his goal and yours! . . .

AUDIENCE PARTICIPATION is a MUST in my show because the kids help to make the magic happen! I get everyone involved by wiggling fingers, making magical waves with their hands, or yelling magic words.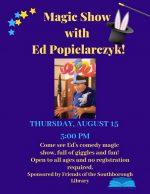 The Comedy Magic Show takes place Thursday, August 15 at 3:00 – 4:00 pm. The program will be held inside the Library on the main floor. The show is open to the public, no registration required.
The show is sponsored by The Friends of the Southborough Library as part of the Summer Reading program. So, be sure to swing by the Children's Room on the way in or out to have kids check out some books, take part in challenges, and enter the weekly drawing.