The community is invited to again participate in the ALS Ice Bucket Challenge for #Shifstrong*. However, with the change in the schedule of Southborough Summer Nights from night to day, there's a change in the format.
On Saturday, the public is encouraged to swing by the Ice Bucket Challenge tent any time during the festival. The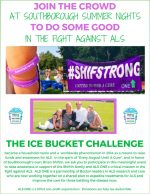 re, you can take the challenge as organizers record and take photographs. They're looking to capture another huge show of support for ALS ONE and the Shifrins.
Last year, a large crowd turned out in support of the cause. (Scroll down for some quick takes I captured from the simultaneous splash.)
Another change this year is the event has no registration fee. Still, if you plan to make a splash this year, you are encouraged to register online in advance. Click here to sign up. (Just ignore outdated details, like event and challenge times.) When you register, a donation to ALS One** will be encouraged, but it is optional and that amount is up to you.
I was curious whether a Bring Your Own Bucket reference in the Facebook event was a requirement. The answer is no. Anyone who wants to bring an extra big bucket to make an extra big splash (or fill it with donations) is welcome to. But for those who don't want to carry one, there will be plenty of buckets available in the tent.
Now, here are some glimpses of last year's fun from YouTube:
(For an even better look at the exhilarated faces in the second video, click the settings to select a slower playback speed.)
*#Shifstrong is the slogan for the community's support of former selectman Brian Shifrin and his family. As explained in a post for a previous fundraiser:
Brian Shifrin is a Southborough husband, father & friend who was diagnosed with ALS in 2017. Today, Brian's disease is progressing where he can no longer be without the assistance of costly care and medical equipment.
This particular event isn't to raise funds for the family. It is to show public support for the family while raising funds for ALS One**. If you are looking to directly support the family, stay tuned for a post next week about an upcoming fundraising run.
**ALS One is "an unprecedented partnership of world leaders in ALS research and care from Massachusetts General Hospital, UMass Medical Center, Harvard Medical School, ALS Therapy Development Institute, and Compassionate Care ALS. Together, they have joined forces on a shared Science Plan and have committed, with proper funding, to finding a treatment or cure for ALS by the year 2020, while improving the care now for those currently battling ALS."