This fall, the community is invited to a 5K Run and Fun Run to raise funds for the Shifrin family. While most readers know the situation by now, for those who don't:
Long-time Southborough resident Brian Shifrin has been courageously battling ALS along with his wife and 2 children for the past 2 years. Brian's condition has rapidly progressed and he now needs 24-hour medical care.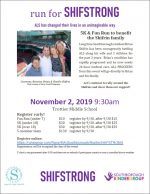 The event will take place on Saturday, November 2nd, 9:30 – 11:30 am at Trottier Middle School. Advance registration is encouraged with a $5pp discount. (But walk in registration the day of will be accepted.)
All ages are invited to participate (including tots, who can ride along in strollers). Runners should register by September 30 for the following rates:
Fun Run (under 7) $10
5K (under 18) $20
5K (over 18) $30
5-member team $130
I should note that the registration fees are nonrefundable even if the race is canceled due to weather. That's because this is a fundraiser for a good cause:
ALL PROCEEDS from this event will go directly to Brian and his family. Let's continue to rally around the Shifrins and show them our support!
To register click here.
The fundraiser is sponsored by Southborough Wellness and Southborough Kindergroup.