Break out the bug spray. There are too many great outdoor events this weekend to stay inside.
Adding to the already busy weekend is an outdoor workshop as part of the Open Space Preservation Commission's Initiative "Native Pollinator • Native Plant"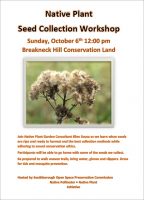 This Sunday, October 6th at noon the public is invited to come out to Breakneck Hill Conservation Land:
Native Plant Seed Collection Workshop

Join Native Plant Garden Consultant Ellen Sousa as we learn when seeds are ripe and ready to harvest and best collection methods while adhering to sound conservation ethics.

Participants will be able to go home with some of the seeds wee collect.

Be prepared to walk uneven trails, bring water, gloves and clippers. Dress for tick and mosquito prevention.

Hosted by Southborough Open Space Preservation Commission
If the topic interests you, you may also want to head to the Library tonight. As I previously posted, the "Closing the Garden" workshop Thursday night will also cover collecting seeds.
Updated (10/3/19 8:03 am): I mistakenly referred to the Closing Garden Workshop as Wednesday night. It is tonight, Thursday, October 3rd.
Updated (10/3/19 9:15 am): Fixed the flyer's broken link.